Joshua Nelson, CEO/BOSCH Certified Technician
Josh founded Nelson Imports in 2010 with an emphasis in Mercedes-Benz service and sales. His passion for Mercedes began at age 16 when he restored his Mom's Mercedes. Throughout college Josh continued to service and restore Mercedes. He has been committed to restoring and repairing these vehicles since. Over the years Josh's passion and expertise with Mercedes-Benz vehicles has earned him recognition in the industry. He is fluent with new and old models. With over ten years of professional business and service experience, Josh is the guy to answer and repair any of your Mercedes-Benz vehicle needs.  In his free time Josh enjoys repairing and selling collectible Mercedes-Benz vehicles.

Jory Dillenburg, Service Writer/General Repair
Jory will be the first smiling face you encounter here at Nelson Imports. He will help you understand the repairs necessary to get your import back on the road. Jory likes working with all European vehicles, however you will frequently see him cruising around in a Mazda Miata. Jory was in the 309th Engineer Company as an E-4 and was responsible for maintaining its armored vehicles in Afghanistan. Ask any question, simple or complex regarding your vehicle and Jory will give you straight and precise answers.

Tim Farrells, BOSCH Certified Lead Technician
Tim joined our crew in 2014. He has a lengthy background in the automotive industry. His experience in automotive education, parts sales and automotive repair make him a well rounded technician. Tim can diagnose and repair all makes and models to OEM standards. With an emphasis on BMW, Jaguar and Land Rover you can feel comfortable knowing Tim is under the hood of your vehicle.  Tim can handle any job, from a complete engine refresh to customized upgrades.
Luis Parras, Specialized Technician
Luis paired up with Nelson Imports in 2017.  Luis grew up in Matamoros, Mexico and moved to Saint Peter when he was 19.   At a very young age Luis had a fascination with Volkswagen.   That fascination flowered into a career with an extraordinary ability to work on VW/Audi.  He is a fluent technician that is always on his A game.  If you stop by on the right day, you may be able to sample some of his wife's homemade tamales!

Chelsea Nelson, Sales/Customer Service
Chelsea signed on with Nelson Imports January of 2017.  In line with her German heritage she keeps Porsche and Mercedes vehicles close to her heart.  Chelsea has a keen eye for locating fine European automobiles.  She can assist you in finding the European auto that suits your fancy. Chelsea manages our strategic development and is our digital marketing professional.  Be sure to contact Chelsea if you are looking to order Nelson Imports apparel.

Regis Fritsch, Sales/IT
Regis leads our specialized European salvage parts sales department.  With several years of internet technology experience, Regis is also responsible for keeping our shop online.  Regis is an avid Mercedes-Benz enthusiast.  He has an obsession with the Mercedes W210 E class and X166 GL trucks. Over a tall cup of coffee Regis can keep you on the up and up with the European parts market.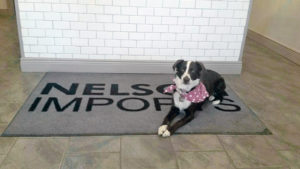 Bella, CUSTOMER EXPERIENCE SPECIALIST
Bella is our canine greeter. If you are unsure of where to park, Bella will guide you into the right spot and show you to the door. She always accepts biscuits for tips.
Pilgrim (PG), CUSTOMER EXPERIENCE SPECIALIST
PG is also our canine greeter.  Pilgrim is a purebred blonde Border Collie.  As we don't have any sheep to heard, PG often  chases shadows instead.  He is very friendly and loves attention from anyone.